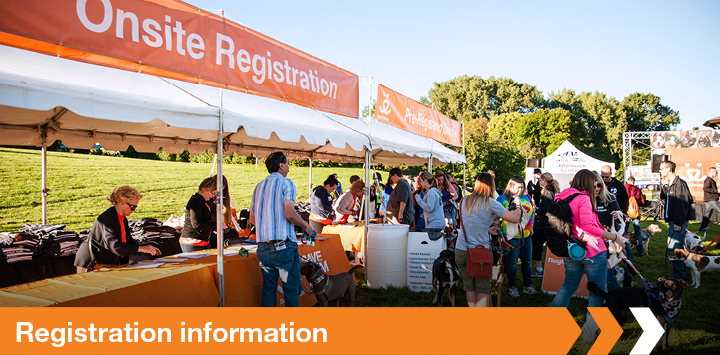 How to Register
When you register for Strut Your Mutt, you can choose to register as an individual or start your own team to support the animals of Best Friends, or you can join a participating No More Homeless Pets Network partner team, and any money you raise will go directly to that organization!
Every year, hundreds of Best Friends No More Homeless Pets Network partners take part in Strut Your Mutt to raise money and save animals' lives in their own communities. The network is made up of more than 1,900 shelters, rescue groups and other animal welfare groups in all 50 states. So there's bound to be network partners participating near you.
See a list of participating network partners. Then, if you'd like, join the network partner team of your choice to help support their lifesaving efforts.
---
Registering is easy!
Step 1: Register.
Step 2: Start fundraising to save lives (and win prizes along the way).
Step 3: Strut!
---
Cost
Adult registration and event pass - $15
For registration and admission to a Strut Your Mutt event in one of the 14 event cities. Includes one adult-size T-shirt
Youth registration and event pass - $10
For registration and admission to a Strut Your Mutt event in one of the 14 event cities. No T-shirt included. Ages six to 12 years old (age five and under free).
Strut Your Mutt Day registration - $15
For registration for Strut Your Mutt Day, October 28. Includes one adult-size T-shirt (mailed).
On-site registration - $20
For registration and admission to a Strut Your Mutt event in one of the 14 event cities, on the day of the event. Includes one adult-size T-shirt
---