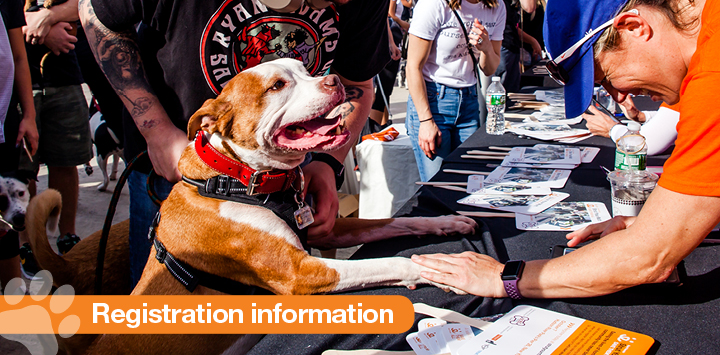 How to Register
When you register for Strut Your Mutt, you can choose to register as an individual, start your own team to support the animals of Best Friends, or you can join a participating Best Friends Network partner team. The money you raise will go directly to that organization!
If you register with a friend by August 13, you'll be eligible to win a trip to Best Friends Animal Sanctuary with your best (human) friend. To enter, look for a prompt to add your friend's name when you register. Get more details here.
See a list of participating network partners. Then, if you like, join the network partner team of your choice to help support their lifesaving efforts.
---
Participating is easy!
Step 1: Register as an individual walker or join a team. 
Step 2: Start fundraising to save lives!
Step 3: Strut at your local event! (If there's not a Strut Your Mutt event at a city near you, you can still participate in Strut Your Mutt Day.)
---
Cost
Live event registration - (adult) $15
Covers adult registration and admission to a Strut Your Mutt event in one of the 14 event cities and includes one adult-size T-shirt (while supplies last).
Live event registration - (youth) $10
Covers youth (ages 6-12) registration and admission (no T-shirt included) to a Strut Your Mutt event in one of the 14 event cities (age five and under free).
Strut Your Mutt Day registration - $15 
Covers registration for Strut Your Mutt Day and includes one adult-size T-shirt (mailed, while supplies last)
On-site registration - $20 (adult), $15 (youth)
Covers registration and admission to a Strut Your Mutt event in one of the 14 event cities on the day of the event and includes one adult-size T-shirt (while supplies last)