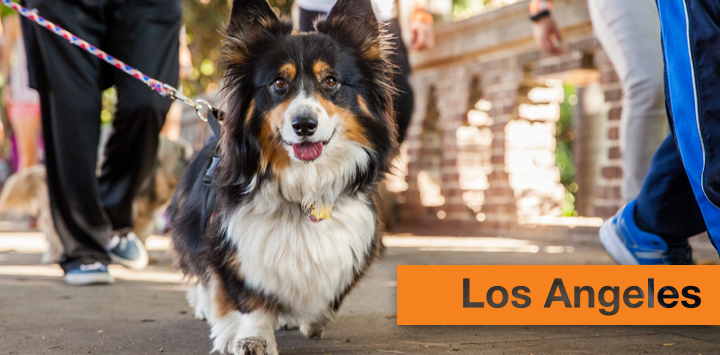 Thank you, Los Angeles, for raising nearly $350,000 for your local community!
Thank you to everyone — strutters, sponsors, volunteers and vendors — who made the Los Angeles Strut Your Mutt such a huge success. Nearly 1,500 people and more than 1,125 dogs participated in the fundraising walk and festival. And everyone had a blast, too!
We hope you'll join us at the next Strut Your Mutt to make it just as amazing as the 2020 event. To get the latest Strut Your Mutt news as it becomes available, sign up for our email list.
Thanks again for strutting to Save Them All!
---
FUNDRAISING AWARD WINNERS
Top Individual Fundraiser - Debbie Gruber
Top Friends & Family Team - Team Roscoe
Top Company Team - ISWMP Feets & Paws
Top Network Partner Team - LA Love and Leashes
Second Place Network Partner Team - Coastal German Shepherd Rescue
Third Place Network Partner Team - Lovebugs Rescue
---
2019 NETWORK PARTNERS
4Life Animal Rescue
805 Bully Friends and Family
Adopt Me Rescue
Angel City Pit Bulls
Bark Avenue Foundation
Beople's Buddies Animal Rescue
Bichon Rescue Brigade
Border Collies In Need
Boston Buddies, Inc.
California GSP Rescue
C.A.R.E. (Cat/Canine Assistance, Referral & Education)
Coastal German Shepherd Rescue
Delaney's Dog
Dogs of Service
Dogs Without Borders
DoVE Project
FAR Side Journey
Forte Animal Rescue
Ghetto Rescue Foundation
Girls of Dog Rescue
Golden Retriever Club of Greater Los Angeles Rescue
Good Dog - Dog Talk, Inc.
Healing Heart Haven for Animals
Henry's Hope Foundation
Holly's Garden
Karma Rescue, Inc.
The Kris Kelly Foundation
LA Love and Leashes
Little Lion Foundation
Much Love Animal Rescue
Mutt Match LA
National Brittany Rescue and Adoption Network, Inc.
OPCA Shelter Network Alliance
Operation Blankets of Love
Outta the Cage
Paws4Life, Inc
Paws for Life K9 Rescue
Precious Pals Pet Rescue
Pug Nation Rescue of Los Angeles
San Gabriel Valley Humane Society
SoCal Animal Rescue Squad (SCARS)
The Little Angels Project
The PAW Mission
The Rescue Team
Two Dog Farms Rescue
Wags and Walks
Walk Me Home Rescue
Watts Project
Yorkie Rescue of America
---