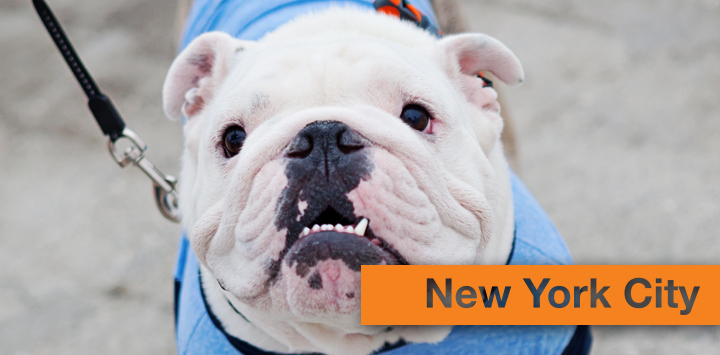 Thank you, New York City, for raising nearly $750,000 for your local community!
Thank you to everyone — strutters, sponsors, volunteers and vendors — who made the New York City Strut Your Mutt such a huge success. Nearly 1,370 people and more than 1,025 dogs participated in the fundraising walk and festival. And everyone had a blast, too!
We hope you'll join us at the next Strut Your Mutt to make it just as amazing as the 2020 event. To get the latest Strut Your Mutt news as it becomes available, sign up for our email list.
Thanks again for strutting to Save Them All!
---
FUNDRAISING AWARD WINNERS
Top Individual Fundraiser - Serena Gauba
Top Friends & Family Team - The Barking Lot
Top Company Team - PupScouts Org
Top Network Partner Team - Joey's Elder Paws Rescue/ H.E.A.L. Sanctuary
Second Place Network Partner Team -Posh Pets Rescue
Third Place Network Partner Team - Muddy Paws Rescue
---
2019 NETWORK PARTNERS
A Pathway to Hope
Animal Care Centers of NYC
Advocat Rescue
Animal Lighthouse
Animals-R-Family
Badass Brooklyn Animal Rescue
BeFreegle Foundation
Foster Dogs, Inc.
Get A Bull
Give me Shelter Project
Halfway Home Animal Rescue Team
Healthy Pets Project NYC, Inc.
Hearts and Bones Rescue
Hug-a-Bunny Rabbit Rescue
Infinite Hope
Joey's Elder Paws Rescue/ H.E.A.L. Sanctuary
Korean K9 Rescue, Inc.
Long Island Bulldog Rescue Inc.
Long Island Greyhound Connection,Inc
Louie's Legacy Animal Rescue
Muddy Paws Rescue
Nassau County SPCA
OPIN Inc
Posh Pets Rescue
Pound Hounds Res-Q
Pug Squard
PupStarz Rescue
Ramapo-Bergen Animal Refuge, Inc.
Rebound Hounds
Rescue City
Rescue Dogs Rock NYC
Rescue Haven Foundation
Rescuzilla
Ruff House Rescue
Stray from the Heart
The Hands2Paw Foundation
Timber's Legacy
Twenty Paws Rescue
Wise Animal Rescue
---