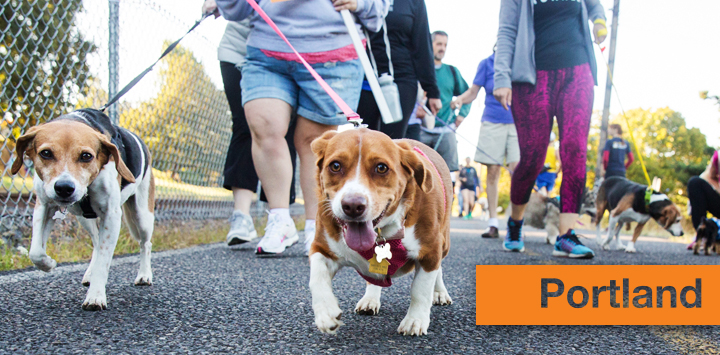 Thank you, Portland, for raising nearly $50,000 for your local community!
Thank you to everyone — strutters, sponsors, volunteers and vendors — who made the Portland Strut Your Mutt such a huge success. Nearly 550 people and more than 400 dogs participated in the fundraising walk and festival. And everyone had a blast, too!
We hope you'll join us at the next Strut Your Mutt to make it just as amazing as the 2016 event. To get the latest Strut Your Mutt news as it becomes available, sign up for our email list.
Thanks again for strutting to Save Them All!
---
2017 Portland Strut Your Mutt - September 9, 2017*
*Date subject to change.
---
EVENT PHOTOS
---
FUNDRAISING AWARD WINNERS
Top Individual Fundraiser - Shannon Ward
Top Youth Fundraiser - Jas Freels
Top Friends & Family Team - Pawesome
Top Company Team - Thrivent Gives Generously
Top Network Partner Team - My Way Home Dog Rescue
Second Place Network Partner Team - Born Again Pit Bull Rescue
Third Place Network Partner Team - House of Dreams
---
2016 NETWORK PARTNERS
Born Again Pit Bull Rescue
Cascade Beagle Rescue
Fences For Fido
House of Dreams No-Kill Cat Shelter
My Way Home Dog Rescue
West Coast Dog and Cat Rescue
West Columbia Gorge Humane Society
---
2016 EXHIBITORS/VENDORS
BarkZone
Collar ID
DoTERRA
Dove Lewis ER & ICU Animal Hospital
Fuego Food Cart
Gamila Cafe
Good Neighbor Vet
K-9 Enterprises
Metro Mobile Groomers
Northwest Neighborhood Veterinary Hospital
Original Bully
Pets On Broadway
Pounce, Play, and Stay
Providence Health Plan
The Puppy Playhouse
Purringtons Cat Lounge
Rainbow Seasons Food Truck
Scoop Handmade Ice Cream
Thrivent Financial
---
THANK YOU FOR YOUR CONTRIBUTIONS TOWARDS THE EVENT
Dove Lewis Animal Hospital
Koldkist Bottled Water
Stardust Prints
---
LOCAL SPONSOR: