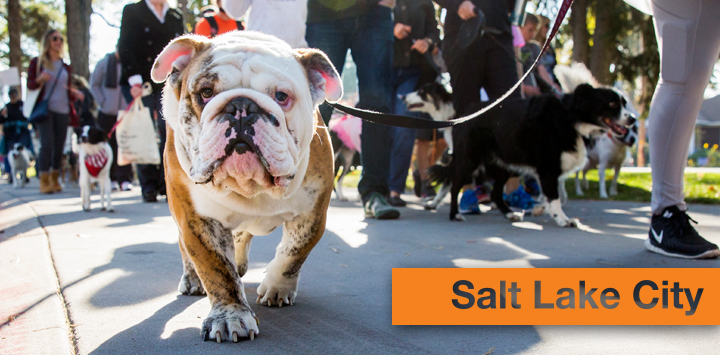 Thank you, Salt Lake City, for raising nearly $270,000 for your local community!
Thank you to everyone — strutters, sponsors, volunteers and vendors — who made the Salt Lake City Strut Your Mutt such a huge success. Over 2,500 people and about 1,000 dogs participated in the fundraising walk and festival. And everyone had a blast, too!
We hope you'll join us at the next Strut Your Mutt to make it just as amazing as the 2016 event. To get the latest Strut Your Mutt news as it becomes available, sign up for our email list.
Thanks again for strutting to Save Them All!
---
2017 Salt Lake City Strut Your Mutt - October 14, 2017*
*Date subject to change.
---
FUNDRAISING AWARD WINNERS
Top Individual Fundraiser - Amber Lee
Top Youth Fundraiser - Montana Leonard
Top Friends & Family Team - Morgue Mutts
Top Company Team - Delta Force
Top Network Partner Team - CAWS - Community Animal Welfare Society
Second Place Network Partner Team - Furever Buddy's Rescue
Third Place Network Partner Team - Second Chance for Homeless Pets
---
Arctic Breeds Rescue
Ashley Valley Community Cats
Black Dog Walk
The Bulldog Club of Utah
Canines With a Cause
CAWS-Community Animal Welfare Society
For the Love of Paws
Furever Buddy's Rescue
Hearts 4 Paws
Herding Haven
The Humane Society Of Northern Utah
Humane Society of Utah
The Legacy Initiative
Nuzzles & Co. Pet Rescue and Adoption
Rescue Rovers
Ruff Patch Rescue
Second Chance for Homeless Pets
Sheltie Rescue of Utah
Two Dog Farms Korean Jindo Rescue
Utah Animal Adoption Center
Utah Animal Advocacy Foundation
Utah FACES
Utah Friends of Basset Hounds
Utah Lost And Found Pets
Utah's Perfect Pointers
Utah Valley Animal Rescue
---
2016 EXHIBITORS/VENDORS
ADT Security
Animal-Assisted Healing Center
Animal Care Center
Barley's Canine Recreation Center
Blue Pearl Veterinary Partners
Broadview University
Cafe Mugshot
The California Chi
Camp Bow Wow
Chow Truck
Chuck Latham Associates
City Pet Club, Inc.
Copper Edge Catering
Dealertrack
Dermatology For Animals
The Doggie Zone
Dog Lovers Pet Services
Dogmode LLC
Elaina ReNae Photography
FETCH Daycare and Overnight
Fidobiotics
Furry Friends LLC
Healthy Hemp Pet Company
Healthy Pets Mountain West
The Humane Society of the United States
Humane Society of Utah
Kudos 2 Canines
Love Muffin Jewelry
Merry Pets
Old Farm Pet Resort
One Balanced World
Paw by Paw
Poutine Your Mouth
The Purple Paw
Rescue Rovers
Save Our Local Pets Utah
Second Chance for Homeless Pets
Seymour's Little Shop of Bowties
SoBu Kanine Krunchies
State Farm-Bekka Carlson Agency
Sugarhouse Donuts
Taco Cartel
Therapy Animals of Utah
Thieps Eats
Topgolf
Tracy Thomas
Usborne Books
Utah Dog Park
Utah FACES
Waffle Luv
Wag Swag Pet Supplies
Why We Wag
Wildkai
Willow Creek Pet Center
Wolfgang Man & Beast
---
2016 LOCAL SPONSORS