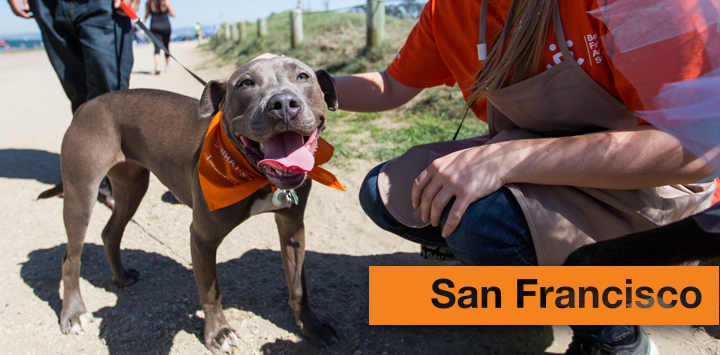 Thank you, San Francisco, for raising nearly $150,000 for your local community!
Thank you to everyone — strutters, sponsors, volunteers and vendors — who made the San Francisco Strut Your Mutt such a huge success. Nearly 725 people and more than 500 dogs participated in the fundraising walk and festival. And everyone had a blast, too!
We hope you'll join us at the next Strut Your Mutt to make it just as amazing as the 2016 event. To get the latest Strut Your Mutt news as it becomes available, sign up for our email list.
Thanks again for strutting to Save Them All!
---
2017 San Francisco Strut Your Mutt - September 30, 2017*
*Date subject to change.
---
EVENT PHOTOS
---
FUNDRAISING AWARD WINNERS
Top Individual Fundraiser - Bettina Yip
Top Youth Fundraiser - Isabela Sutter
Top Friends & Family Team - Friends Furever
Top Company Team - Wiggling Tails, LLC
Top Network Partner Team - NorCal Boxer Rescue
Second Place Network Partner Team - Oakdale Shelter Pet Alliance
Third Place Network Partner Team - Silicon Valley Pet Project
---
2016 NETWORK PARTNERS
3R Rescue
Bay Area Alliance for Animal
Central Coast Pug Rescue
NorCal Boxer Rescue
NorCal German Shorthaired Pointer Rescue
Oakdale Shelter Pet Alliance
People Animals Love and Support
Reunion Rescue
Rocket Dog Rescue
Silicon Valley Pet Project
Two Dog Farms, Inc.
Umbrella of Hope
---
2016 EXHIBITORS/VENDORS
Bergin University of Canine Studies
Canine Campaign
Damo & Lasi
Dynamo Donuts
El Tonayense
FK Frozen Custard
Happy Hounds Massage and Fitness
Hella Halal
High Tail Hotel
K9 Heart 2 Heart Communications
Mobowl
Paw Patch Pastries
Paws for Purple Hearts
Pooch Coach
Portable PETicures
Reach Photos
Shelby's Dog Treats
Subs on Hubs
Wag Hotel
Whistle
---
THANK YOU FOR YOUR CONTRIBUTIONS TOWARDS THE EVENT
Fred Anderson
Praetorian
Safeway
SF Cheer
Starbucks
Stardust Prints
Subway
Trader Joe's