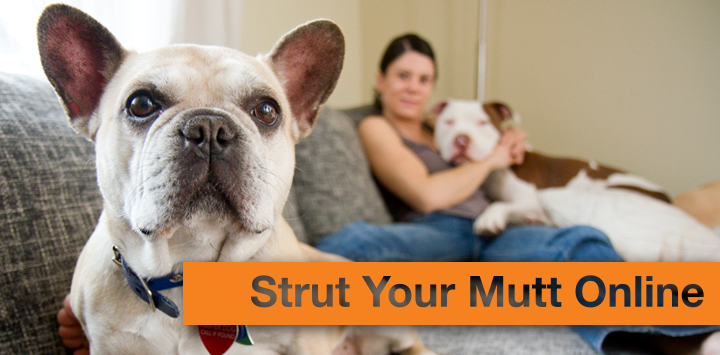 Thank you, Virtual Strut Your Mutt participants, for raising nearly $100,000 for your local communities!
Thank you to everyone who made the Virtual Strut Your Mutt such a huge success. More than 275 people participated in the online fundraising event. And everyone had a blast, too!
We hope you'll join us at the next Strut Your Mutt to make it just as amazing as the 2016 event. To get the latest Strut Your Mutt news as it becomes available, sign up for our email list.
Thanks again for strutting to Save Them All!
---
2016 NETWORK PARTNERS
4 Paws 4 Life Rescue
All Fur Love Animal Society
Animal Help Alliance
Bend Spay & Neuter Project
Black Forest Animal Sanctuary & Southern CO Rescue
Cache Humane Society
Carolina Animal Rescue and Adoption
Central Ohio Sheltie Rescue, Inc.
Coastal Pet Rescue
English Springer Rescue America, Inc.
Frances R. Willis SPCA
Friends of Arlington Animal Services
FUR FUN RESCUE
Gallup-McKinley County Humane
Humane Society of the Treasure Coast
Kitty Kat Haven
Marley's Mutts Dog Rescue
Maumee Valley Save-A-Pet
Mostly Mutts Animal Rescue and Adoption, Inc.
Mutley's Miracles
One by One Friends of Animals, Inc
Pawsitive Souls
Pitt County Animal Shelter
Pitty Love Rescue, Inc.
Plenty of Pitbulls
Prairie Paws Animal Shelter
Rainbow Animal Rescue
Safe Haven Animal Rescue Program Inc.
Salem Friends of Felines
Sanilac County Humane Society
Scott County Humane Society
Second Chance Animal Shelter
Southern Pines Animal Shelter
Southern ROOTS Rescue Inc
SpayNation - Wild Cat Foundation
Sumner Spay Neuter Alliance
Texas Star Rescue
TLC Humane Society
TOPCats on the Ridge, Inc.
Waiting for a Star to Fall Farm
West Valley Humane Society