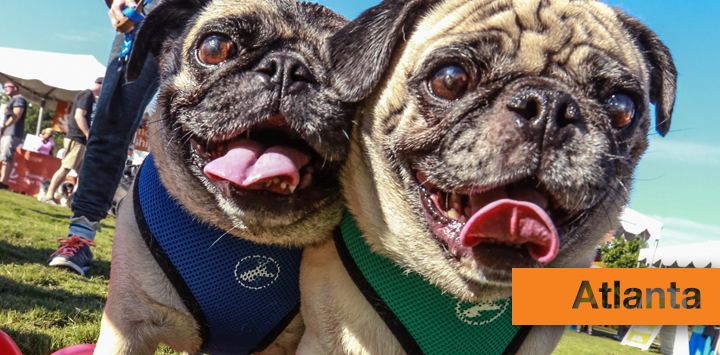 Thank you, Atlanta, for raising more than $80,000 for your local community!
Thank you to everyone — strutters, sponsors, volunteers and vendors — who made the Atlanta Strut Your Mutt such a huge success. Over 800 people and more than 600 dogs participated in the fundraising walk and festival. And everyone had a blast, too!
We hope you'll join us at the next Strut Your Mutt to make it just as amazing as the 2016 event. To get the latest Strut Your Mutt news as it becomes available, sign up for our email list.
Thanks again for strutting to Save Them All!
---
2017 Atlanta Strut Your Mutt - September 23, 2017*
*Date subject to change.
---
EVENT PHOTOS
---
FUNDRAISING AWARD WINNERS
Top Individual Fundraiser - Micarl and Laureeen Hill
Top Friends & Family Team - Supreme Team
Top Company Team - Plants Creative Landscapes
Top Network Partner Team - Good Mews Animal Foundation
Second Place Network Partner Team - Fayette Humane Society
Third Place Network Partner Team - Angels Among Us Pet Rescue
---
2016 NETWORK PARTNERS
Angels Among Us Pet Rescue
Animal Ark Rescue
Atlanta Pet Rescue and Adoption
Cooper's Cupboard Inc.
Fayette Humane Society
Friends To The Forlorn Pitbull Rescue
Furkids Animal Rescue & Shelters
Georgia Society for the Prevention of Cruelty to Animals
Good Mews Animal Foundation
Leftover Pets
LifeLine Animal Project
Mostly Mutts Animal Rescue
PAWS Atlanta
Planned PEThood of Georgia
Priceless Pets
Two Tailz Rescue
---
2016 EXHIBITORS/VENDORS
AMLI Residential
The Ark Pet Spa & Hotel
Atlanta Pet Life/Pet Pages Atlanta
Banjo Cold Brew Coffee
Bark ATL
Barking Cat Jewelry
BluePearl Veterinary Parnters - Georgia
C4 Belts
The Chiropractic Center, LLC
Dog City Bakery
The DogHouse Professional Grooming
Dog+Wolfe Fetching Artwork
First Fence
Genki
Heavenly Paws Pet Aquamation
King of Pops
My Way Cafe (BBQ)
Nationwide
Nicoles Dog Gone Cute Grooming
Nina Parker Photography
One for You One to Give
Paw Palace
Paws, Whiskers and Wags Pet Crematory
Pet Paradise
Plants Creative Landscape
Petco Foundation
PuppyUp Atlanta
Recycle Wallet
Roadie.com
Taj Ma-Hound
---
THANK YOU FOR YOUR CONTRIBUTIONS TOWARDS THE EVENT
Kroger
Stardust Prints
Trader Joes