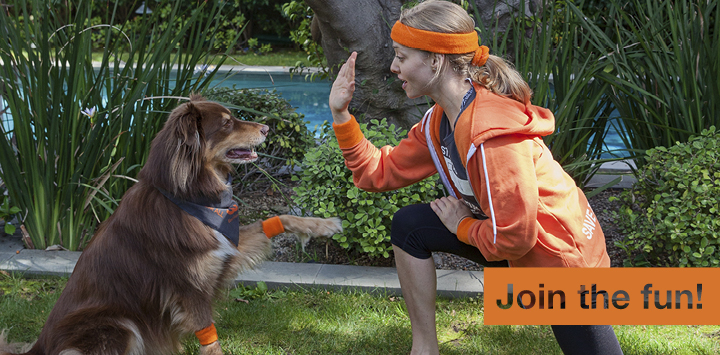 Take the 9000 Steps Challenge
Join Strut Your Mutt spokesperson Amanda Seyfried and her dog Finn in strutting 9000 Steps to raise money and awareness for the more than 9,000 dogs and cats killed each day in America's shelters.
"Finn and I are excited to take the 9,000 Steps Challenge! Are you up to the challenge, too? Join us and thousands of other animal lovers to help save the lives of homeless pets."
- Amanda Seyfried
"Woof!"
- Finn

On the ninth day of each month, strut 9,000 steps to raise awareness for the more than 9,000 dogs and cats being killed in shelters each day, simply because they don't have safe places to call home. You'll also get the chance to win some pretty amazing prizes.
How it works: Register and we'll send you an email that lets you report your 9000 Steps accomplishment for a chance to win cool prizes.
Why: Because awareness is the first step to change! By completing this challenge every month, you're helping to spread the word about this important cause.
You could win: Every time you complete the #9000Steps challenge, you'll earn a badge for your fundraising page, and the chance to win prizes courtesy of BOBS from Skechers and Best Friends.
But wait. There's more: You'll have more than one chance to win because every time you complete the 9000 Steps Challenge, you'll be entered to win our grand prize: a BOBS from Skechers shopping spree, a photoshoot with your own pet for an ad in Best Friends Magazine, and a trip to Best Friends Sanctuary.
Register for Strut Your Mutt to take part in the 9,000 Steps Challenge, sponsored by BOBS from Skechers!
---
#9000Steps Gallery
Taking the 9,000 Steps Challenge? Inspire others to do the same! Post to your Twitter or Instagram account with the hashtag #9000Steps to share what you're doing for the animals, then check out the gallery below to see your post. You can also see how others across the country are joining in on the fun.
p.s. Don't have Twitter or Instagram? You can also click the "Submit an Entry" button below to share your photos in the gallery.