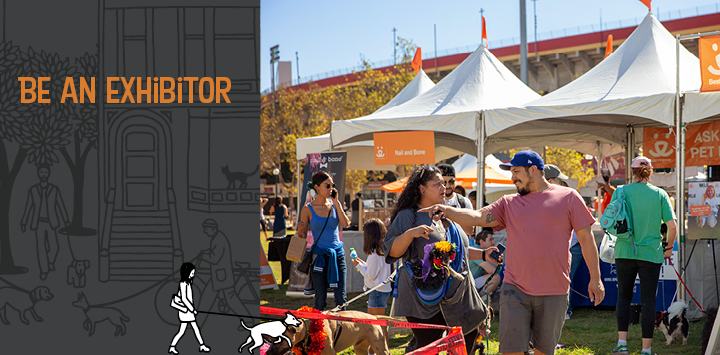 EXHIBITOR INFORMATION
Best Friends Animal Society will review all booth sales applications prior to approval and confirmation. Booth applications will be considered for approval based on the interests of our target audience (animal lovers), consistency with Best Friends' mission and any exclusivity rights granted to our national sponsors (i.e., the need to ensure that items and services are not in direct competition with our national sponsors).
We encourage any business who would appeal to our pet-loving audience to apply for a booth at Strut Your Mutt ― not just those businesses who are strictly related to pet supplies and services. Although cats are not allowed at Strut Your Mutt, businesses that relate to cat lovers are encouraged to participate.
We apologize, but we generally do not approve applications from other nonprofit organizations (including animal rescue groups, animal shelters and other animal welfare organizations), if they would normally qualify to be one of our network partners. While we are happy to accept applications from non-network nonprofits, approval of these applications is rare.
Due to relationships with national sponsors, certain business categories will not be approved. Currently, those categories include all pet food manufacturers and pet treat manufacturers who sell products on a national level. Thank you for your understanding.
Exhibitor Application
CANCELLATION-REFUND POLICY
You can cancel your Strut Your Mutt participation at any time. However, please be courteous of our limited space and cancel as soon as possible so that other potential exhibitors can support the event. No refunds will be made once invoices are paid.
EXHIBITOR DETAILS: PRIZE DONATION AND OTHER IMPORTANT INFORMATION
Best Friends Animal Society requires all approved exhibitors to donate one item to be used as a raffle or contest prize. This item (or multiple items) may be bundled with other prize donations at the discretion of Best Friends.
Item should have a retail value of $30 or more.
Upon application approval, you should work with your local coordinator to arrange for your donated item to be shipped or delivered to a specified location prior to the event or on event day.
Approved nonprofit organizations are exempt from this requirement.
The top network partner fundraising team booths is also exempt from this requirement.
APPLICATION REVIEW AND APPROVAL OR DECLINE
After reviewing your exhibitor application, a Best Friends representative will email a confirmation letter or a decline notice. If you do not receive this confirmation letter within one week of submitting your application, please contact events@bestfriends.org, indicate you're interested in the (list which city) Strut Your Mutt, and let them know that an exhibitor application has already been submitted. Once you're approved to exhibit, details about load-in and load-out on event day will be emailed to you three to four weeks before the event date.

EVENT INFORMATION

BOOTH PACKAGE
There is an Early Bird discount on applications submitted through July 2. Starting July 3, the price will increase. The following is included in the fee:
Booth space is 10' by 10' and includes the following: 10-by-10-foot canopy, one table (either six or eight feet long, depending on availability), and two chairs. If you choose a double booth, your space will be 10 feet by 20 feet, and include double the supplies.
Company name on the Strut Your Mutt website exhibitor listing by city (which attracted more than 250,000 online visitors and 1.2 million-page views between May and November 2018).
One promo code to create a free online company fundraising team on strutyourmutt.org. Having a company team will attract additional customer support, provide greater visibility to your company's participation and provide your company with an opportunity to win the top company team trophy, awarded on stage at the event.
MILESTONE DATES
For the latest Strut Your Mutt updates, please check the Best Friends Strut Your Mutt website, strutyourmutt.org,. Here are some important dates:
June 17: Strut Your Mutt online registration opens, and you can begin setting up your company team.
Deadlines to apply to be an exhibitor:
Atlanta—Sept 20
Austin--August 30
DC Metro--Sept 20
Houston--Sept 13
Jacksonville—Oct 11
Los Angeles—Oct 2
Minneapolis--Sept 13
New York City--Sept 20
Phoenix--Oct 4
Salt Lake City--Sept 18
San Francisco—August 23
Two weeks prior to event: All approved exhibitors must have their booth paid in full or space will be re-allocated to another applicant and your participation will be canceled.
One day prior to event: Strut Your Mutt online registration closes at noon in the local time zone of each event city. From that point onward, each city's site will remain open solely for the purpose of accepting donations through October 31.
One day prior to event: Early move-in for exhibitors (details and times will be shared in your exhibitor kit) if applicable.