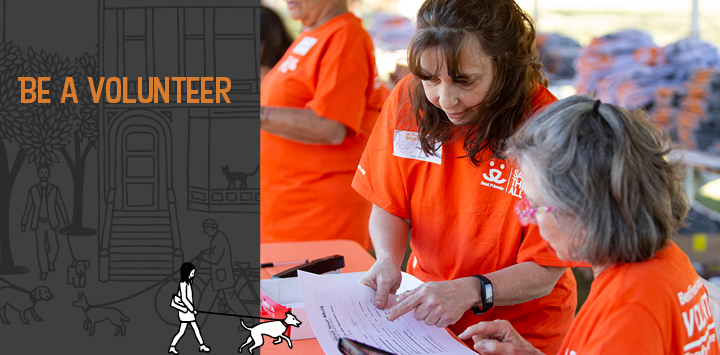 Be a Strut Your Mutt Volunteer
There's nothing quite like the sound of hundreds of dogs panting, sniffing and walking together amid a festival atmosphere of food and fun. When you volunteer for Strut Your Mutt, you get the chance to pet all the dogs! If this sounds like your dream come true, Best Friends Animal Society can use your help to make this year's Strut Your Mutt the best-ever for homeless pets.
Strut Your Mutt is a dog walk and festival that raises money to save the lives of pets in your community and across the country. The event is always a blast, but it takes a team of energetic and dedicated people to pull it off. That's where you come in.
We need volunteers to help with registration, assist along the walk route and help at booths and attractions. You can also help with other tasks, such as setting up for the event, cleanup and more. Learn more about what volunteers do at Strut Your Mutt. For more information or if you're interested in volunteering, please email bfvolcoord@bestfriends.org.
To inquire about additional volunteer opportunities in your city, please contact us.
To volunteer in Atlanta, email volunteerATL@bestfriends.org
To volunteer in L.A., email volunteerLA@bestfriends.org
To volunteer in New York, email volunteerNYC@bestfriends.org
To volunteer in Salt Lake City, email utahvolunteer@bestfriends.org
To volunteer in Kanab, Utah, email volunteers@bestfriends.org
To volunteer in one of the other cities, email bfvolcoord@bestfriends.org