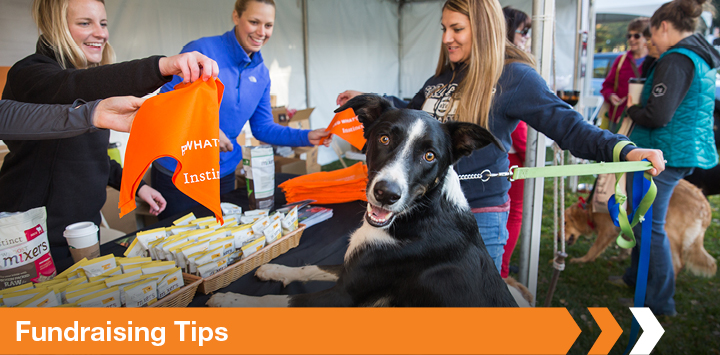 Fundraising
Fundraising is an important part of Strut Your Mutt because the money raised helps save lives! And this year, we hope to raise $3 million, which will help save the lives of homeless pets. Reaching your fundraising goal may sometimes call for a little creativity and fortitude. And since we know how hard you're working to meet those goals, we've put together some quick-and-easy tips to help you out.
Get the app!
Fundraising is easy with the new Strut Your Mutt app. With the push of a button, you can schedule and send pre-written or customized messages via text, email or social media.
The app also lets you manage your Strut Your Mutt profile, change your fundraising goal, or gather donations on the spot.
Set goals!
Create mini goals for yourself to help you reach your larger goal. An example would be raising $100 in the first month, etc.
Ask at least one person per day to make a donation, because the more people you ask, the more money you will raise!
What to say
Let people know why you care. Did you adopt a pet? Do you volunteer? Did a pet touch your life in some way? People want to know about you and what is important to you. Touch their hearts by telling your story. Don't forget to make your story a prominent feature of your fundraising page.
Ask for a specific amount.
Tell supporters how their money will be used. Money raised through Strut Your Mutt will be used to save the lives of animals by funding adoption and spay/neuter programs.
Say thank you and keep supporters involved. Express your heartfelt gratitude to those who do donate. Keep your supporters up to date on how much money you have raised, as well as how close you are to reaching your goal.
Who to target
Get your company's support. Many companies encourage employees to support charitable causes. Try to create a company team for the walk, and ask if your company will match your fundraising goal if you achieve it. You could even keep a "change jar" at work and ask people to put their pocket change in the jar.
Have kids? Let them join the fun! Kids are great fundraisers who enjoy coming up with creative ideas to help you meet your goal. (Did someone say lemonade stand?)
Get the community involved. Talk to local businesses about helping you host a fundraising event. It could be a pint night at a local bar, or a special Zumba class at your local gym.
How to spread the word
Send personalized emails, make phone calls, even direct texts. Ask people through the channel that you communicate with them the most, whether it be email, texting or social media messaging.
Use social media posts to your advantage:
Let people know about your goals, but don't be afraid to ask them for donations through direct messages.
Thank your donors by tagging them on Facebook. Tags will appear on their timelines and make them feel great. Your friends and their friends will also see it and may crave the same recognition
If you post about your fundraising efforts on Facebook and someone "likes" your post, send them a message to see if they would donate

Send a handwritten fundraising letter. Letter writing is a lost art these days, and that's why receiving a handwritten letter stands out as something special. Make it even easier for people to support you by including a self-addressed stamped envelope. You will be surprised at the donations you receive.
Getting Creative
Use your own photos to make it personal. Have some fun with them. Make your own meme!
Make flyers or business cards to hand out with your fundraising page info when you are at a social gathering. Attach them to a piece of candy or some other treat.
Do something crazy (but safe) and announce ahead of time that you'll do it if you reach your goals. Make it something people would really want to see (such as shaving off your beard if you've had one for years, or wearing a tutu to work).
Reduce your clutter by hosting a yard sale or selling unwanted items at a consignment store with the proceeds adding to your donations.
Give your donors a reward for helping you reach your goal, like the secret recipe to your famous dessert.
Create a banner containing the names of everyone who donated to you or your team and carry the sign during the walk. Create your own T-shirts for the event or customize an official T-shirt for your team that lists all of your supporters.
Request donations in lieu of birthday gifts. Love the birthday cake and ice cream, but don't need anything else? Tell your family and friends that instead of giving you gifts, you would like them to donate and support your Strut Your Mutt fundraising efforts.
Don't get discouraged. Remember, even if people don't donate, you are still spreading the word about the needs of homeless pets and your effort to save them. People you talk to may not be able to donate this year, but they might consider adopting a pet or getting involved in other ways.
If you need to access the offline donation form, click here.
For the Network Partner fundraising guide,click here.