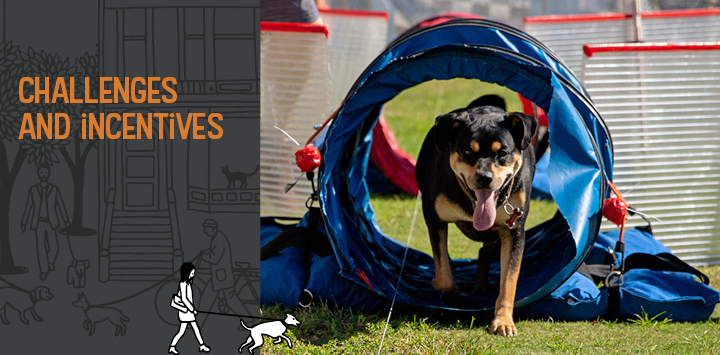 Are you up for a fundraising challenge?
We want to make fundraising fun, so this year, we're throwing out some awesome fundraising challenges, incentives, and chances to earn badges that mark (and, let's face it: show off) your fundraising progress.
---
Incentives
Registration Incentive: Early Bird Pricing!
Register by July 31st and get a special early bird price of $15! 
Lifesaving Circle
To recognize all of your hard work raising money for the animals, you will join the ranks of the Lifesaving Circle. With every fundraising level reached, you will earn more fun prizes to show others how you Lace Up, Leash Up and Save Lives!
Raise $500 and receive a pair of Best Friends shoelaces
Raise $1,000 and receive a Best Friends branded leash
Raise $2,500 and receive Best Friendship Bracelets (matching dog charm and human bracelet)
Raise $5,000 and receive a Best Friends dog walking kit with treat pouch, water bowl, and flashlight!
______________________________________________________________________________
Challenges
Throughout the summer, we'll announce fundraising challenges where you can help your Strut Your Mutt team earn more funds and win some cool swag for yourself! Stay tuned to your email for more surprise challenges!
72-Hour Challenge
Raise $30 in 3 days for Strut Your Mutt and get a special gift from Best Friends.
Homestretch Challenge
Raise an additional $100 in the final week of fundraising (October 24-31) and receive an exclusive prize from the Best Friends store.
ResQwalk Challenge
The Top performing ResQwalker will be featured on ResQwalk social media channels with their animals.
______________________________________________________________________________
Badges
Did you think getting badges was the best part about being a Girl or Boy Scout? While our badges are on a screen, the pride you will feel earning them will be similar. There are many fundraising and accomplishment milestones that can be earned as you fundraise to save lives. They will appear on your personal and team fundraising pages, showing everyone the impact you are making to lifesaving in your community.