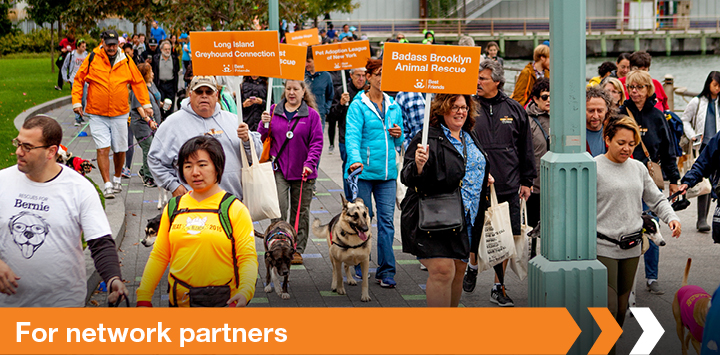 Network Partners
To Save Them All, it's going to take all of us working together. That's why Best Friends Animal Society started Strut Your Mutt — to help homeless pets all across the country.
Each year, hundreds of Best Friends No More Homeless Pets Network partners participate in Strut Your Mutt in order to raise money needed to save lives in their own communities. For many partners, the funds raised during Strut Your Mutt make up a good portion of their funding for the entire year. The 2016 Strut Your Mutt raised nearly $1.9 million for 294 participating network partners.
Participation in Strut Your Mutt is just one of the many perks for network partners. Animal shelters, rescue groups and other animal welfare organizations who join the network also receive the following:
Professional advice and other help from dedicated specialists
Grants for implementing creative lifesaving strategies
The opportunity to participate in national fundraising events (like Strut Your Mutt)
Discounted registration to the Best Friends National Conference
The chance to take part in Best Friends' national adoption promotions and specials
Special educational opportunities
Plus, as a partner, you'll get to be part of something huge — an entire network of passionate groups and people working toward the common goal of finally ending the killing of dogs and cats in America's shelters.
Find out more about the No More Homeless Pets Network and see how you can apply to become a partner.