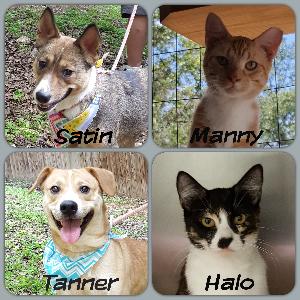 Lifelong Friends Pet Adoptions
UPDATE: WE HAVE SECURED MATCHING FUNDS FOR EVERY DOLLAR RAISED!
Thank you for visiting our Strut Your Mutt Team page. We are raising money for the special needs of our rescue center pets.
Lifelong Friends Pet Adoptions is a volunteer-run, non-profit, 501c(3), no-kill pet rescue center dedicated to preventing animal suffering, rescuing and caring for stray and abandoned dogs and cats, and finding homes for these animals. We are also active in educating the public about responsible pet ownership and encouraging pet owners to spay and neuter their animals. We receive no money from the city or county - it is only through donations and fundraising that we are able to continue our rescue work.
We currently have approximately 39 dogs and 59 cats in our care. They came to us from rescues and owner surrenders. Twenty-three

of these pets arrived in a sudden rush that expanded our pet population by 23 percent in one fell swoop.

Most required an immediate medical evaluation including vaccinations, getting micro-chipped, and being spayed or neutered. Some had severe skin rashes and hair loss that needed specialized treatment. Many also needed extra time and expense to acquire socialization skills. This is aside from the normal expenses of food, medications, and overhead in keeping these animals as healthy and comfortable as possible until they are adopted. That's why our team is participating in Best Friends Animal Society's Strut Your Mutt event to raise money for these animals. But we need your help, too. And we plan on all having a lot of fun doing it!
Please join us either by registering for our team or donating to one of our team members. Your donation is tax deductible and we keep 100 percent of the money that's raised after transaction fees. And the best part? That money will improve the temporary living conditions and even help save the lives of homeless pets.
To learn more about us please visit www.lifelongfriends.org

or find us on Facebook
Together we can Save Them All!
Thank you for your support!
View More

Debby Denehy
$110

Lesa Favreau
$200

Russ Hall
$175

Rhianon Peterson
$120

andrea phillips
$290

Amber Walker
$430

$10000 Team Fundraising Milestone
Raised $10000 towards team goal
Recent Donors
Anonymous
Anonymous
Anonymous
Anonymous
Anonymous