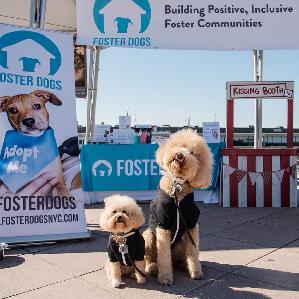 I'm walking to save the lives of homeless pets!
Last year I had the distinct honor to be the Team Captain and lead the Foster Dogs team at Strut Your Mutt, where we raised over $31,000! This year will look a little different, as the event is virtual, but that won't stop us from hitting our goal! I've joined Team Foster Dogs again for my 7th year participating in Strut Your Mutt!
Strut Your Mutt is an annual fundraising walk hosted by Best Friends Animal Society that saves the lives of homeless pets right here in my community and all across the country. Those of you who know me understand how strongly I feel about animal rescue, especially with Foster Dogs, Inc. I know there are so many other things going on in the world right now, but I hope you'll consider donating whatever you can to help my team reach their $20K goal! Thank you all in advance!
Want to join me in supporting a good cause? I'm raising money for Foster Dogs, Inc. and your contribution will make an impact, whether you donate $5 or $500. Every little bit helps. Thank you for your support!
This cause means so much to me and I am grateful for your help. Every day, about 2,000 dogs and cats are killed in America's shelters, simply because they don't have safe places to call home. Each one is a loving pet just like yours and mine.
Together, we can Save Them All and reduce that number to zero. Thank you for your kind support.
View More